To our wonderful backers and followers,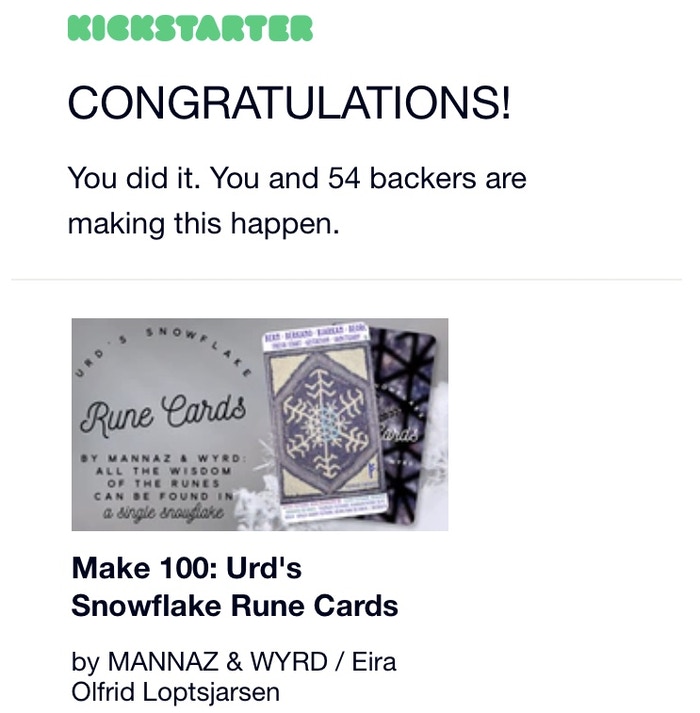 Thank you, from the bottom of our hearts. Together we're going to create an educational and divinatory rune card deck with more than the usual Elder Futhark, and a kickass teaching resource that inoculates young adults against recruitment by extremists. We are so excited to move into production and bring you Urd's Snowflake Rune Cards, and the Urd's Snowflake Syllabus & Interdisciplinary Lesson Plans, in summer of 2021! It hardly feels like a month has gone by, but what an exciting month it has been. For the record, we ended the crowdfunding campaign at 231% funded, with 54 backers and 163 project followers. 
We'll be in touch soon with surveys to help us send out your backer rewards.  
This weekend, we're navigating setting up our Etsy shop and a WordPress site. So much to learn! Last night we posted a synopsis of what we've learnt during the first couple of months of the project on the blog at mannazandwyrd.com. (Don't mind the mess, we're still fine-tuning the WP theme and figuring out workarounds for the small image size allowances.) 
Backers, if you missed out on choosing one of the late-breaking bonus rewards, shoot us a message and we'll find a way to make it happen for you. Some of the unclaimed backer rewards will also be available for pre-order through our Etsy shop, starting next week, but at a slightly higher price to cover Etsy's fees.
We're also still polishing the first draft of the syllabus and lesson plans, while building a small team of home-schoolers and professional educators to test it out once it's ready, and make suggestions for improvement. (If you're interested in being on that team, contact us!) 
We want to see our curriculum get lots of use, and use the feedback we get to improve both the syllabus and the cards for a bigger, better second edition – so keep spreading the word, and stay in touch on Twitter, Instagram, Tumblr, Etsy, and our website for updates.
(republished from our 20 Feb 2021 campaign update on Kickstarter)
Thank you all.