(Edited 3Dec2022) Version 1.3 of Urd's Snowflake Rune Cards' Booklet is now available to download for free!
(Edited 6Dec2021) Version 1.2 of Urd's Snowflake Rune Cards' Booklet is now available to download for free!
(Edited 9Nov2021) Version 1.1 of Urd's Snowflake Rune Cards' Booklet is now available to download for free!
This 14 page booklet was written as part of the Urd's Snowflake Rune Cards project, which grew out of a need to vet information about runes and remove misinformation, white supremacy, and cultural appropriation while re-grounding rune divination practice in current academic research on the primary and secondary sources by linguists, historians, and archaeologists.
In version 1.1 all edits from the first edition are in blue italics or crossouts for transparency. These were necessitated by a mass-market popular-history-and-occult source being found to be untrustworthy due to his early books' completely uncritical handling of material from pre-WW2 German mystics; please see Eira's full apology here.
In version 1.2 all additional edits are in orange text. These are minor typo corrections, modern divination meanings to use with caution (possibly Armanen, gendered, or unsupported by the rune names & poems), and suggested additional divination meanings.
In version 1.3 all additional edits are in green text. These are small changes to wording, some further flagging of meanings that come from Tarot and I Ching, additional divination meanings from rune poems, additional recommended reading, and additions and alphabetization of the authors-to-avoid list. We believe this will be the final update to the booklet.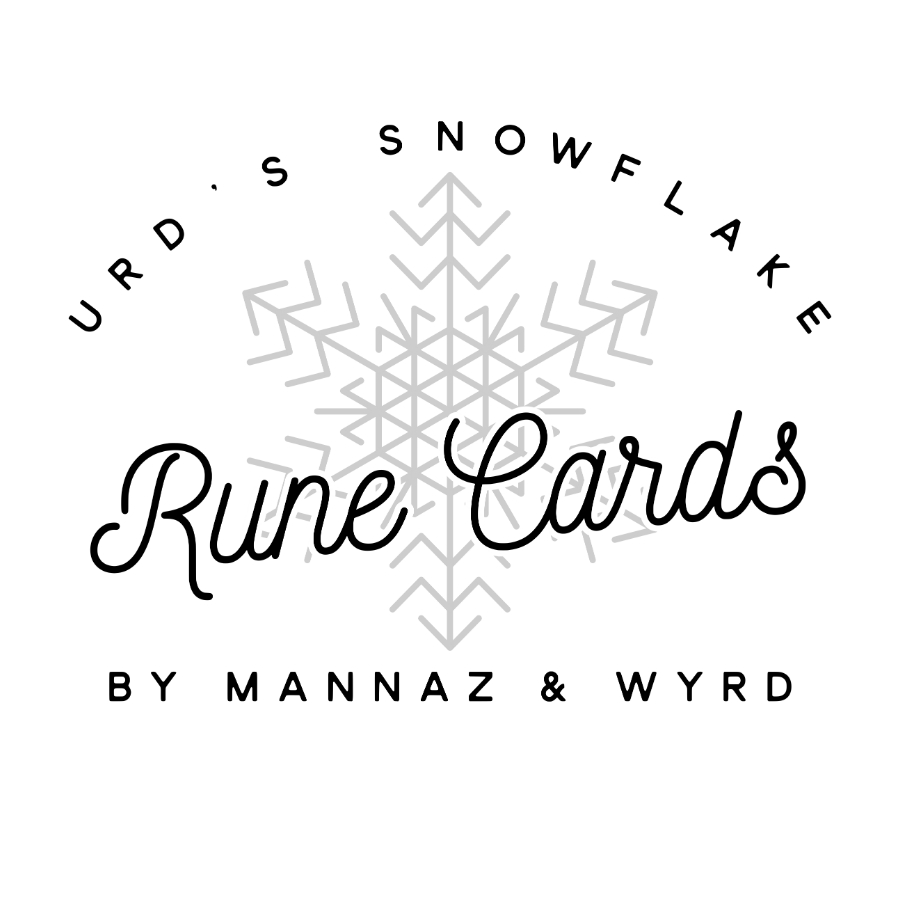 [The limited 1st edition of the card deck, which includes Elder Futhark, Younger Futhark, Anglo-Saxon Futhorc, and selected bind-runes (now removed due to our sourcing mistake), was available through Etsy. We have not yet decided if we will make the remaining decks available with the questionable cards removed.]
In the booklet, which can be used without the cards by any rune user, we discuss both the history of the rune rows, and the more recent history of rune divination, and have attempted to pare away ideas that came from von List's gang of ethnic nationalists, the I Ching, Hermeticism, and Tarot (to the extent that's possible in a card format). Our suggested divination keywords are drawn wherever possible from current translations of the various rune poems, and do not include reversals. We are currently working to ensure no suspect information slipped through in the divination keywords; however, we are finding the dawn of modern rune divination in the 1970s and early 1980s was awash in appropriation from other practices and sneaky references to the Armanen runes, so it'll take awhile to complete that process. In a future update, we'll also share a separate list of spurious divination meanings and why they're unlikely.
We've also done our level best to flag any runes that were stolen by the Third Reich or are currently being misused by white supremacists, and to vet the suggested readings. We've provided our (updated!) recommended reading and sources list, and a list of mass-market rune authors to avoid.